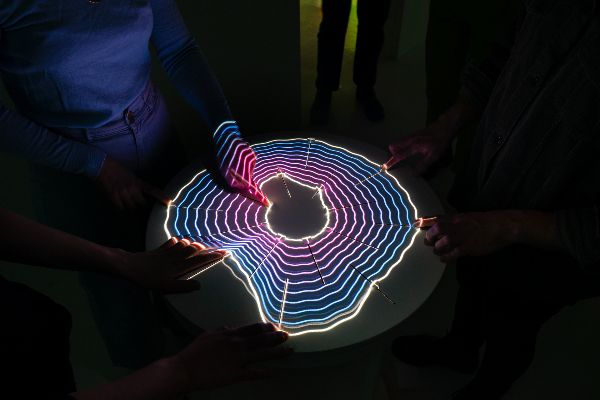 In the attitude of silence, the soul finds the path in a clearer light, and what is elusive and deceptive resolves itself into crystal clearness.

~ Mahatma Gandhi
---
I recently read an article by someone who runs every day, and cherishes the process – because that time running is time purely for themself. I loved that concept and think it directly applies to our creative activities.

Engaging in a daily creative pursuit allows you to reclaim your time and prioritize your own well-being. When you create something, every minute spent is yours alone, and it feels good to make time for yourself each day. However, not every day will be easy, and it's easy to make excuses not to create. But if you focus on how much better you'll feel once you've made something, you'll find that the benefits of engaging in a creative pursuit are worth the effort. Over time, you'll come to appreciate how essential it is to dedicate time to your creative pursuits every day.
This week's artist is – SPACEFILLER– consisting of artists Alexander Nagy and Alexander Miller – who collaborate and pursue visual art, music, programming and math. They use generative algorithmic graphics, projection mapping and tactile interaction to establish venues for experimentation, play, and discovery. This feels very familiar from some experiments in various college classes. Check out their website and instagram for even more!
Ernst Ludwig Kirchner would have been 143 on Saturday!
We just wrapped up the Spring Clean Art Supply Drive and we can only say, thank you so much! We received so many donations. We'll be sorting, testing, and cleaning everything for the next couple of weeks and distributing everything once it's ready.
There's still room for your donations – but Saturday is the last day to drop them off! Bring any materials and art supplies you aren't using (new or used) by the store and we'll get them to an organization or two that will use them to change lives!
This is a fun space elevator that allows you to travel from Earth's surface to Space "Congratulations! You have made it 0.01% to the moon."
If that wasn't enough, Neal also shares the size of space and a challenge to draw a perfect circle.
Just for a bit more fun, can water solve a maze? (I enjoyed this video more than I expected to.)
Speaking of fun, I was recently told to stop sharing the dad jokes in this email. Here, Jim Gaffigan explains why dads tell horrible dad jokes. I dunno that I agree…
I've never really considered the items that sunk with the Titanic, but apparently the most valuable item to go was a painting.
Here are some visiting cards of notable artists from the late 20th century.
The prints of Hokusai's Great Wave Off Kanagawa aren't often displayed because they fade rapidly when exposed to light. Here's a list of where you can currently see one.
Even more delicate are banana bruise artworks.
To show that you can use anything to make art – evbuilds creates chunky pixelized abstract images in Microsoft Excel and David Popa uses natural pigments to draw large format portraits on fractured sheets of ice and then photographs them from above.
The Mauritshuis museum was digitally displaying dozens of renditions of the artwork while the original was loaned to the Rijksmuseum.
Here's an explanation of why rainbows are actually circles – and an experiment of how to see a full one! Even if you don't care, be sure to check out the photo at the top of the article!
Ever wonder about pigments in your supplies? Especially ochers (and siennas and umbers). Here's an excellent breakdown.
Thinking about pigments and paint in a completely different way – This Is the Lightest Paint in the World. "A Boeing 747 needs about 500 kilograms of paint. He estimates that his paint could cover the same area with 1.3 kilograms."
This short video is a man on a very small bike.
Here are some fun photo collections. These are the best sciences images of last year. Here are some comedy wildlife photos. These are minimalist abstract photos. And finally, Alien Worlds (macro photos of fungi and slime molds.)
This is the first Friday of the month, so there's an Art Crawl! Check out the ArtRoom Collective in the Smiley Building (4-7) and Create Art and Tea (5-7).
The opening prayer, speakers, and potluck at the opening reception of "The Stories We Wear" by FLC Center of Southwest Studies is at the Ignacio Community Library Friday from 5-7. Exhibition runs for the month of May.
The 14th annual Dandelion Festival is this Saturday at Rotary Park from 1-9.
There are classes/workshops/projects available at the Dancing Spirit Community Arts Center, Let's Letter Together, the Scrapbook Nook, Create Art and Tea, the 4 Corners Gem and Mineral Club, Seed Studio, and the Durango Arts Center. There are a lot more things happening that I don't include – so if you're ever looking for something to do, start at WhatsHappeningDurango.com.
We just brought in a fantastic range of new yarn colors and materials for you to feast your eyes on. While we always try to have a variety of yarns, we recently shifted our focus from wool to cotton – perfect for those spring projects. So, whether you're a seasoned pro or a beginner looking to dive in, now's the time to come check out our latest selection!
---
Whether you're painting, writing, or knitting, it's important to remember that nobody else's opinion matters. Pursuing a creative activity is not about competing with others or seeking external validation, but rather about reclaiming your time and finding motivation from within. Don't worry about measuring your progress or comparing your work with others. Instead, focus on the joy and fulfillment that come from pursuing your creative passions every day. The world needs you to be your best self – you need your art!

Matthew & the Art Supply House crew