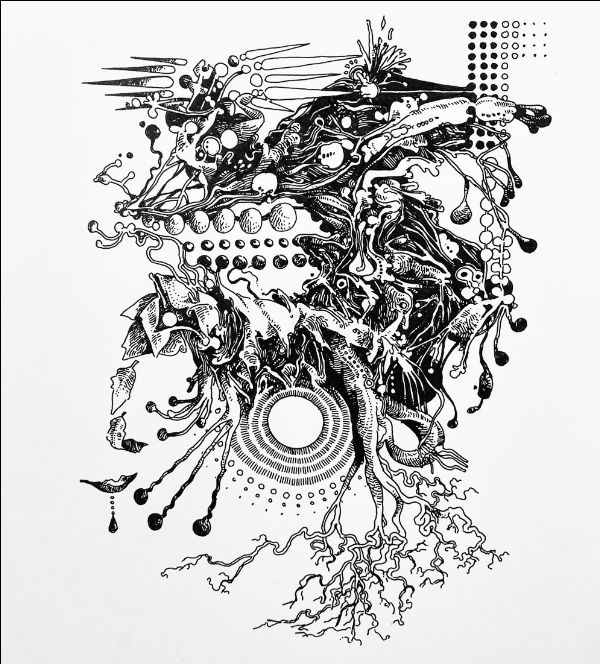 It does not matter how slowly you go as long as you do not stop.

~ Confucius
---
It's easy to set a goal for ourselves that looks something along the lines of, "Create something every day." This sets us up for failure. If the goal was set for January 1st and on the second we miss a day… we've already failed at the year! What if we reworded our goal to "Create something dailyish." This goal allows us to prioritize progress over perfection. By committing to regular, consistent effort, we can build momentum and make tangible strides towards our goal. It involves pushing ourselves to put in more effort than we might otherwise, while still being gentle with ourselves and avoiding a rigid, all-or-nothing mindset.
This week's artist is – Peter Deligdisch – whose work was shared with me by a customer's friend. Two gentlemen came in to the store, one grabbing supplies and the other watching videos on his phone. The friend asked what he was watching and he said "Peter Draws, I could watch him draw all day." So, of course, I had to check out his work for myself! You can see for yourself on his youtube and instagram!
Alexandre-Gabriel Decamps would have been 220 on Friday.
Here are a couple of online tutorials from Strathmore: colored pencil Hydrangeas and mini gouache floral landscapes.
Looking for a dailyish project? Perhaps try the index card a day challenge.
Here's another reminder to aim for acceptable, not perfect.
I always think it's too early, but here's the underwater photographer of the year.
These sky collages are pretty fun.
As with bicycling, so with life: "Where you look is where you go."
It's the 7th year of the #OneWeek100People challenge, running from the 6-10.
Tomorrow is the First Thursdays Songwriters Series from 7-9 at The iNDIGO ROOM at The iAM MUSIC Institute! This free event, hosted by Ashley Edwards, co-founder of iAM MUSIC and lead singer & keyboardist of Hello Dollface and Loki Moon, will feature five amazing local musicians. Free, but must RSVP to reserve limited seating.
The Powder Hounds Art Auction and Pet Photo Contest kick-off event is Saturday, at 4 at Ska Brewing. This an annual week-long event. Participants can bid on snowboard art created by local artists. Buy-it-now pricing will also be listed. Those who don't wish to bid on snowboard art can instead enter a photo of their pet into our pet photo contest and vote for their favorites. Winner of the photo contest will receive custom snowboard art featuring their pet! Proceeds from this event will go toward the care of the homeless pets at the humane society.
There are classes/workshops/projects available at the Dancing Spirit Community Arts Center, Let's Letter Together, the Scrapbook Nook, Create Art and Tea, the 4 Corners Gem and Mineral Club, Seed Studio, and the Durango Arts Center. There are a lot more things happening that I don't include – so if you're ever looking for something to do, start at WhatsHappeningDurango.com.
If you're looking for a dailyish activity, we have a variety of papers you could have fun with. Work your way through a (mini) pad of paper, sketch out a dailyish card or postcard (and mail it to someone!) or just test out a new kind of paper in a small, approachable size. This is just a sampling (with the pencil thrown in for scale) of what we currently have on hand. Swing by today to see what kind of fun you can get into!
---
At its core, "dailyish" is about getting out of our own way and shifting our focus towards the work itself. It's important to remember that productivity is about what we create, not about our personal record of achievements. By embracing a flexible, forgiving mindset, we can let go of the desire for a one-size-fits-all solution and instead focus on consistent effort and showing up to do the work. This approach can help us bring our creative vision to life and achieve our goals over time. After all, the important part is creating, because the world needs your art!
Matthew & the Art Supply House crew
P.S. – As a reminder, we're going to be having a spring clean art supply drive in April. We'll take in donations of art supplies and materials that you aren't using and distribute them all to an organization or two who can really put them to great use. So while you're looking through your supplies, keep that in mind. Note the things that you aren't using and haven't in some time. We'll send out reminders when we start accepting donations.