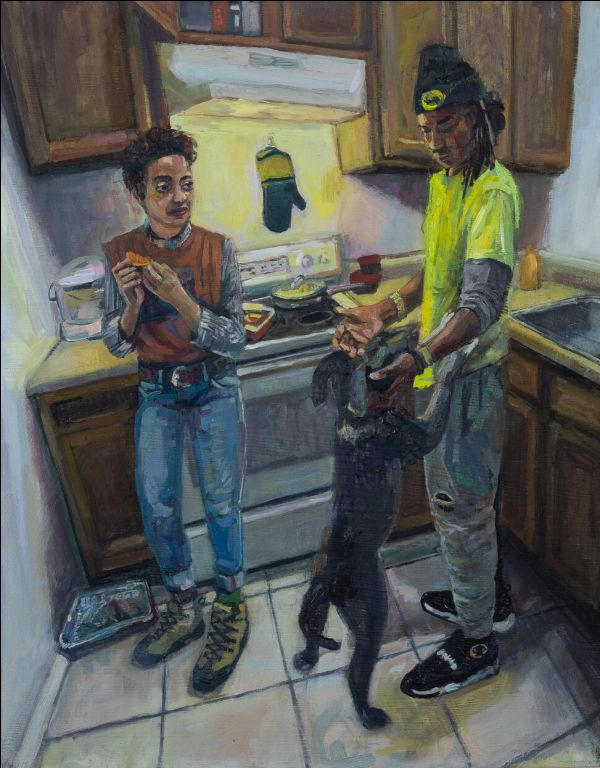 Art is not a handicraft, it is the transmission of feeling the artist has experienced.

~ Leo Tolstoy
---
Visiting an art gallery or museum is an experience that connects us with the different voices and creative expressions of artists from the past and present. It is a place where we can soften our solitude and feel part of a conversation that has gone on for centuries. As we admire the artwork, we can hear the whispers of the artist's voice waiting to speak to us, inviting us to appreciate their creation and be inspired by the philosophy behind it.
This week's artist is – Ariana Vaeth – whose work was recently shared by a friend. She's a young artist who's already done some astounding things (shown at all sorts of museums, galleries, art shows, and even at the US embassy in Luxembourg). She's also super-involved in the art community, adjunct teaches in Beloit, mentors younger and older artists, and spends a lot of time and energy making sure other folks' work gets noticed and appreciated. Check out her website and instagram for more!
Giuseppe De Nittis would have been 177 on Saturday.
Why Going through the Motions is the artist's secret weapon for getting started. I have started many a drawing with a spiral or other thoughtless doodle.
There are a couple of Calls for Artists in the area:

The Durango Herald is looking for a design that encompasses what local journalism means to our community. How it impacts and keeps people safe, informed, and engaged. They would like an artistic expression of the importance of having a local newspaper. Submission Deadline is February 28th. More info available here.
Willowtail Springs in Mancos CO is offering 1-2 week scholarship residencies in the arts and natural sciences during the months of March, April, May, and October 2023. Many more details and the application can be found at willowtail.org.
The Sweaty Buddha is inviting local artists to display their work "in the hopes they will gain exposure, sell their art and also help us to support our local community." Mediums considered: paintings, pastels, oils, mixed mediums, collage, graphic art, hand made rugs, poetry (if framed) and photographs. Artists should be from the 4 corners area. Art will hang for 2 month rotations and the Sweaty Buddha will take 10% commission on all sold work. Please provide write up or artist statement. Artists will be featured on TSB's social media as well in their monthly newsletter. Contact Paige Pasquini 413.358.8873 or paigepasquini@gmail.com for questions or more information

Here are some of James O. Mitchell's expressive and evocative portraits.
This list of unlikely simultaneous events provides a fascinating perspective on history.
I haven't explored all of Floor796 but certainly enjoyed discovering the mermaid sitting in the tree.
Have you ever heard about the backstory of the thesaurus?
This article about Stephen Wiltshire's Whirlwind Ways talks about how his art is his life history.
Edward Gosling was an armless artist.
This video shows how vinyl records are made – a remarkably analog process.
The 18th Annual Durango Independent Film Festival is March 1-5.
There are classes/workshops/projects available at the Dancing Spirit Community Arts Center, Let's Letter Together, the Scrapbook Nook, Create Art and Tea, the 4 Corners Gem and Mineral Club, Seed Studio, and the Durango Arts Center. There are a lot more things happening that I don't include – so if you're ever looking for something to do, start at WhatsHappeningDurango.com.
With so many different kinds of pens available, the world of writing implements is full of endless possibilities. From disposable to refillable, from cartridge to dip, each pen has its own unique features, including different types of tips and a wide variety of colors. As someone who can't resist the allure of a new pen, the abundance of options is both thrilling and overwhelming. But whether you share this passion or not, we have something for everyone. From pens that come in waterproof ink to those that do not, we have a diverse selection that is sure to suit all of your mark making needs. So, if you're looking for a new writing implement or simply want to see what's out there, come by and check out the range of pens we have on offer today!
---
Art, especially those that embody philosophy, offers us counsel and a source of inspiration that is always present when and where we need it. It speaks to us quietly and has an unlimited capacity for listening. So, whenever we need a friend to turn to, we can visit a gallery, admire a painting, and listen to the voice of the artist who believed that their art could make a difference. They were not wrong.
As artists, we have the power to create works that not only inspire us but also provide comfort and connection to others who may view them in the future. By sharing our thoughts and emotions through art, we can leave a lasting impression that speaks to the human experience and offers a sense of community, even if we may not physically be present. Through our art, we can leave a legacy of enduring inspiration that may soften the solitude of others and create a meaningful impact in the world. Now and in the future, the world needs your art!
Matthew & the Art Supply House crew
P.S. – As a heads-up, we're going to be having a spring clean art supply drive in April. We'll take in donations of art supplies and materials that you aren't using and distribute them all to an organization or two who can really put them to great use. So while you're looking through your supplies, keep that in mind. Note the things that you aren't using and haven't in some time. We'll send out reminders when we start accepting donations.