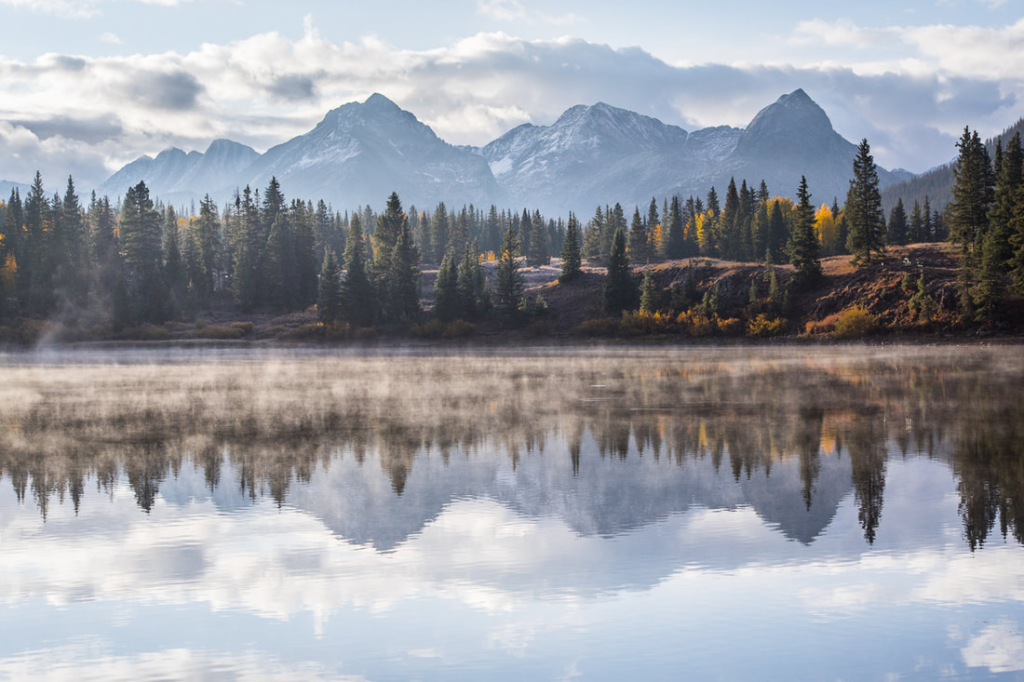 The moment that you feel, just possibly, you are walking down the street naked, exposing too much of your heart and your mind, and what exists on the inside, showing too much of yourself…That is the moment, you might be starting to get it right.
~ Neil Gaiman
---
I always find it interesting to think about being a parent. Me, as an individual, as a dad who is helping rear my individual daughter. Very individual circumstances. However, there have been approximately gazillions of fathers before me. No matter the differences in our experiences (era lived, circumstances, etc) we could relate as fathers. Simultaneously personal and universal.
This week's artist is – Andrew Fraquelli High– a local photographer whose work I saw in a local coffee shop. The print that caught my interest was a river photo. I was quite surprised to discover that Andrew is a wedding photographer in addition to landscapes! Whichever type of photography you might be looking at, check out his website and instagram for even more!
A. J. Casson would have been 125 Today!
Most of the donations from the Spring Clean Art Supply Drive are going to Young People In Recovery. Last year we donated some of the drive to them and that was the only art donation they received – so they're thrilled to have a new stash! What they received last year was really helpful to both the organization and the individuals they work with. This year is going to be even better! Thank you so much!
Have any brushes that need some love? Here's a brief guide to using brush shaper to get them back… in shape. (And it's normally something we have on the shelf.)
If you've ever watch Art21, they're now sharing all of the past episodes on youtube!
Here's a video of how Chuck Jones became a great artist. (Part of his process was studying humanity – because what's personal is universal.)
Partially because it's so out of my realm of expertise, I really enjoyed watching this video about how to carve marble like Donatello. I really liked the comment about how "the drawing is more of a diagram than a drawing for the sake of it." I think that many creators underestimate the importance of a regular sketchbook practice, as a testing ground and planning place for a final piece.
After all those videos, maybe you prefer reading about this person who disconnected from the grid, while living in Manhattan, for 8 months.
If you're a list maker, you might enjoy this list of the top 100 lists of all time.
A Van Gogh painting was renamed recently.
Head to The Hive's indoor skatepark tonight from 6-7:30 for a free Word Honey Poetry Workshop.
Second Story Books is turning 10! They're celebrating all week, until the 21st. Here are some details about how to join in.
Continuing with anniversary celebrations, the General Palmer Hotel is turning 125. They're celebrating on Saturday from 11am to 3pm, and will include lots of kids and family activities (a kiddie train from the Bayfield Lions Club, face painting and a kid's tea party), photo booths, tours of the hotel, live music and performances and more!
Head to Guild House Games in the Main Mall every Monday night to join in the free chess club!
Tuesday continues the Slow Bluegrass Jam at the General Palmer from 5:30-7:70. If you're a beginner/intermediate acoustic music player looking to play more then this weekly jam is welcoming to all players, with a focus on slower tempo improvisation solos and chord changes. If you can play the I, IV and V chords in G, D and A then you know enough to play at this jam!
There are classes/workshops/projects available at the Dancing Spirit Community Arts Center, Let's Letter Together, the Scrapbook Nook, Create Art and Tea, the 4 Corners Gem and Mineral Club, Seed Studio, and the Durango Arts Center. There are a lot more things happening that I don't include – so if you're ever looking for something to do, start at WhatsHappeningDurango.com.
We just received a box full of boxes full of sidewalk chalk. Since the weather's turning nice it's time to get out and enjoy it, with the whole family. Kids of all ages can have fun drawing and doodling on readily-available canvases (that will, eventually, self-clean)! Plus, there's a new 48-pack that we haven't been able to offer before (and it includes hot pink!)
---
The paradox of art is similar to that of parenting: the more personal the artistic expression, the more universally it resonates. This paradox is the magic of art – personal, individual, unique elements in art serve to unite us as a collective human audience. The personal idiosyncrasies of an artist, reflected in their art, become a mirror in which we can all see a bit of ourselves. The specificity of the artist's vision serves not to alienate but to draw us closer, reminding us of our shared humanity.

It can be scary to share something we've made, especially something we've poured part of ourselves into. Those are the creations that will best resonate with others. Those are the creations the world needs. The world needs your art!

Matthew & the Art Supply House crew