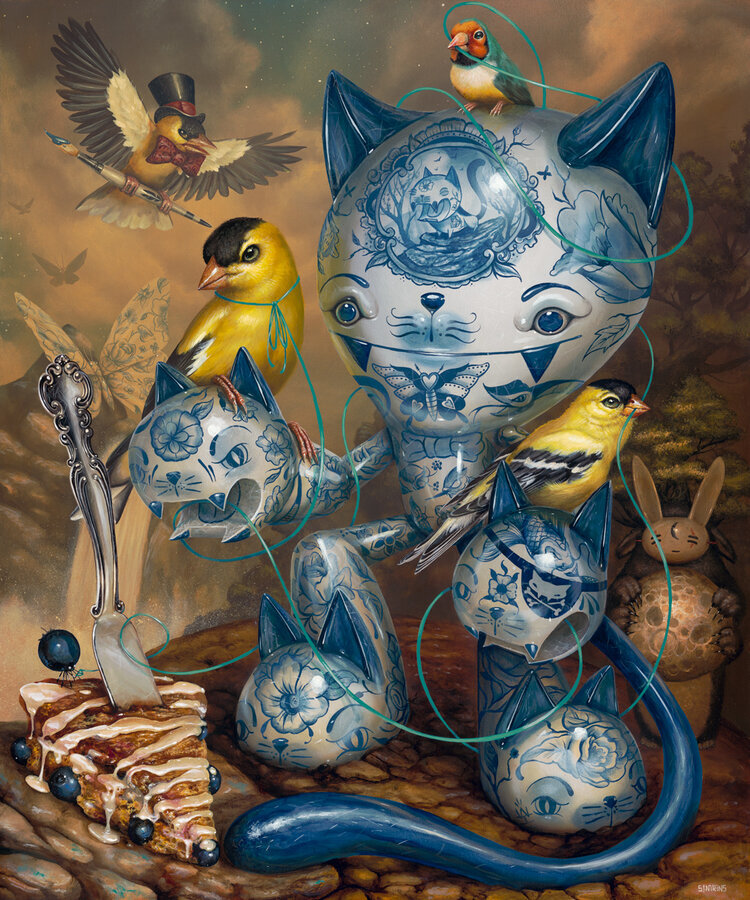 Experience: that most brutal of teachers. But you learn, my God do you learn.

~ C.S. Lewis
---
Have you ever read the instructions, watched the videos, and still had to fumble your way through a project? Happens to me all the time. No matter how much research I've done before tackling a project, the first time always has a learning curve. The next time goes that much more smoothly and continues to get better with practice.
Walt Kuhn would have been 146 on Friday!
The Durango Creative District just put out a Call to Artists with a proposal deadline of November 7th. Here is more information.
I have experienced and greatly recommend using a sketchbook as memory device.
I've run across mentions of this article multiple times recently. Drawing strangers without looking at your paper.
Here's a new youtube channel – great books explained.
How does an octopus experience time?
2022 Travel Photographer of the Year winners and the winners of the 2023 Nikon Small World Photomicrography Competition.
Iceberger – draw an iceberg and see how it will float.
The making of an alphorn.
I've never seen this technique before – using liquin and charcoal together to make a "permanent" charcoal sketch.
Following the link above, there's also an oil painting guide for beginners.
Here's how to use your iphone as a white noise background machine (no app needed). I have definitely needed this during trips.
If you're traveling, take a photo of your hotel room number as a reminder.
Have you heard about the art market pop-up in November?
Durango Figure Drawing happens every 2nd and 4th Wednesday from 6-8 in the Seed Studio at the Smiley Building (which means it's tonight). Drop-ins are welcome, costs $20 to participate.
Community Harvest days are still happening. Various locations, Thursdays from 5-7.
Sine Language – An Acoustic Expression of Art Exhibit opens tomorrow at the Fort's Art Gallery, Department of Art and Design (1000 Rim Drive) from 4:30-6. This exhibition interprets sound and resonance into tangible installations and paintings. Through the acoustic expression of art, Cassano creates a musical, interactive environment with handmade, bronze vertebrae called "noema." Along with the 3D aspect of the exhibition, Cassano translates sound into physical paintings. The exhibition content will include large interactive sculptural and sound installation made with bronze, as well as large scale oil "sound" paintings on canvas.
There are a lot of activities for Halloween, running from Friday-Tuesday. You see them listed at WhatsHappeningDurango.com.
A related event is the 17th Annual Three Springs Fall Festival, Saturday from 11-2 at Three Springs Plaza. Free Event! Get your costumes ready to join in at Three Springs! Benefitting Big Brothers Big Sisters of SW Colorado, for all your favorite Fall Fest activities: Neighborhood Trick or Treating (bring your own trick or treat bag!), Live Music, Pumpkin Decorating, Scavenger Hunt, Coloring Contest sponsored by Alpine Bank and other fun activities to support the Bigs & Littles!
There's a Spoketober SLOW ride competition on Saturday from 10-6. More info available here.
Drop by Guild House Games on Monday from 6:30-9 for the free, weekly Chess Club.
If you're a beginner/intermediate acoustic music player looking to play more – head to the General Palmer on Tuesday from 5:30-7:30 for the Slow Bluegrass Jam. This weekly jam is welcoming to all players, with a focus on slower tempo improvisation solos and chord changes. If you can play the I, IV and V chords in G, D and A then you know enough to play at this jam!
There's a lot of live music around town. Check out WhatsHappeningDurango.com to find who, when, and where.
There are classes/workshops/projects available at the Dancing Spirit Center for the Arts, Let's Letter Together, the Scrapbook Nook, Create Art and Tea, Durango Sustainable Goods the 4 Corners Gem and Mineral Club, Seed Studio, and the Durango Arts Center. There are a lot more things happening that I don't include – so if you're ever looking for something to do, start at WhatsHappeningDurango.com.
We brought in some new paper. If you like yupo, you'll love the Dura-Bright papers – with a unique surface ideal for dynamic effects. Pair them with Golden's fluid High-Flow Acrylic Paints for effortless glide and vibrant visuals!
---
As the headline above says – you don't know until you do. This is doubly true. We don't know how to do something until we've actually done it. Also, of course, we don't know something until we know it. We learn by doing, perhaps only by doing. Without experience behind us, we only have theory and ideas.

All of that to say that it's easy to get caught up in researching the making of art. Instead, we need to be practicing. Doodle in the sketchbook, testing out new ideas and techniques. Play with those art supplies! As always, no matter where you are on your creative learning journey – the world needs your art!

Matthew & the Art Supply House crew