The Art Supply House began in 2003 when Linda Frazee, the original owner, saw a need to provide high quality art supplies to residents in Durango. In 2004 Linda's husband, Chris, began offering custom picture framing as well. Chris and Linda operated the business successfully for almost 10 years when they decided it was time to move on to other adventures. The business changed hands in 2012 with Jeramiah Townsend becoming the new owner.
Jeramiah, an entrepreneur and artist, has pursued constant growth and improvements to the store, organizing and increasing inventory.
If we cant be excellent, then why do it at all?
I want to create a store that people love to come and shop in... and that people love to work for. I want to help our customers by providing them with the products they desire at an affordable price, plus the kind of quality and service we all love to have in a small town shop. I want to provide a workplace that considers employees as people, and not just disposable goods.
I use to think being successful was about competing with major art retailers like Michaels and Hobby Lobby. But it's really about serving our customers by providing better products and service. And we're going to do that better than anyone else.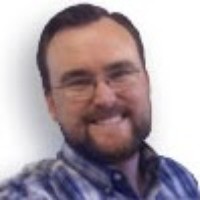 Jeramiah Townsend
President & Artist
You can see some of Jeramiah's artwork below.