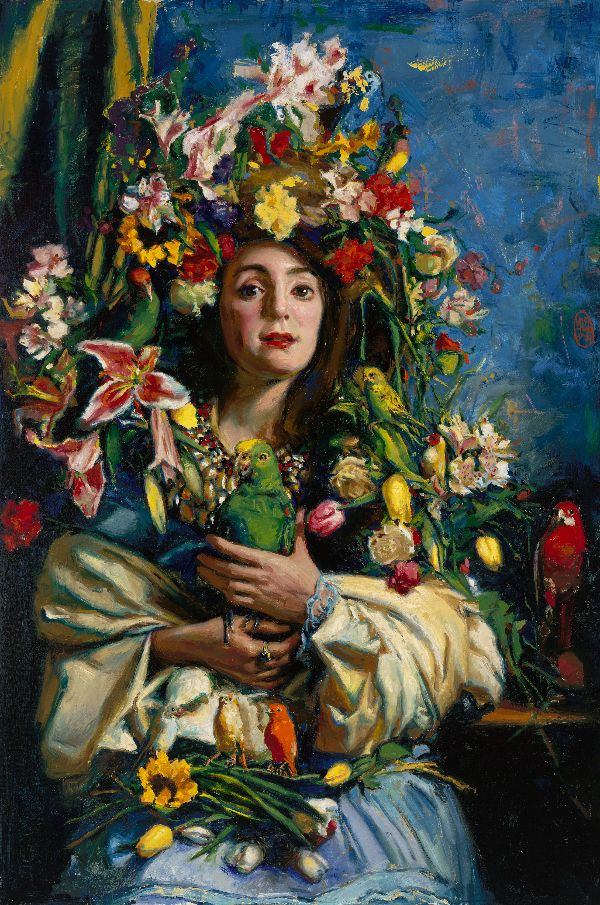 To this day, no one has come up with a set of rules for originality. There aren't any.

~ Les Paul
---
Last weekend I went up to Fort Collins to visit friends and family. While there we went to their Center of Discovery and had a lot of fun. I saw the Les Paul quote above there and it really jumped out at me. It's a simple yet powerful reminder for all of us who dabble in the world of art and creativity.
In the sprawling landscape of imagination, there's no 'right' or 'wrong' path, no neatly laid out highway to being original. And isn't that liberating! The canvas of creativity is vast and unbounded, ready for us to leave our unique imprints.
This week's artist is – Teresa Oaxaca – who I ran across while reading this article about using charcoal drawing as a break from other art-making processes. I liked the article and was intrigued by the portrait of the artist in her "elaborate costume". After looking through her website, watching some of her videos, perusing instagram, checking out her textile store, and generally learning more about her, I figured that she'd be a great artist to share with you. If nothing else, I'd say that she's learned to be originally herself!
Natalia Goncharova would have been 142 on Sunday!
Dave Gray shares 100 Visual Frameworks and thoughts on how to explore stuckness with them. And here's David Epstein on the science of getting unstuck.
Do you have an inspiration corner full of words on the wall?
This is a great guide to using a crowquill nib. (Which we have available.)
This article about wherever inspiration takes me was a fun read. Partially because it inspired an idea for a painting of my own… Did any ideas spark for you?
Gouache has become more popular recently. Here are 6 tips for working with it. If you prefer videos, I love these by James Gurney.
I really enjoyed looking through these Antartic landscape photos. They made me think of these paintings.
Here are a few words on thinking about thinking.
In case you're traveling somewhere where the earth shakes, here's an earthquake fizz calculator.
The Durango Humane Society's 19th Annual Adopt-a-Thon is Friday and Saturday, from 8-8. They'll have reduced adoption fees, big sales at @LPC Humane Society Thrift Store, and live music from Matt Rupnow Music , Pete Giuliani Music, and Richard Leavitt on Saturday. Also, we will have a food truck with burgers and Bratwurst donated by Sunnyside Farms Market and cold beverages from Durango Coca-Cola, Star Liquors, and Ska Brewing.
Friday is the first one of the month. So there's an art crawl at the ArtRoom Collective in the Smiley Building from 4-7, scattered around downtown Durango (there's an interactive map), and an opening reception and awards for the Architecture of Durango Area Art Show at Create Art & Tea.
Fox Fire Farms live music on Friday evenings is back! Music, food and wine. Free admission, seating on spacious lawn. Bring rain gear if there is a chance of rain. This week head out to hear The Assortment.
The 40th annual Animas River Days is this weekend, at Santa Rita Park.
There are classes/workshops/projects available at the Dancing Spirit Community Arts Center, Let's Letter Together, the Scrapbook Nook, Create Art and Tea, the 4 Corners Gem and Mineral Club, Seed Studio, and the Durango Arts Center. There are a lot more things happening that I don't include – so if you're ever looking for something to do, start at WhatsHappeningDurango.com.
If you're looking for a fresh palette for your artistic expression, check out some of the new goodies we just brought in – Scratchbord and Claybord! Scratchbord lets you 'reverse draw' by removing the top color to reveal your image in stark, dramatic contrast. The Claybord captures inks, acrylics, and watercolors with unique vibrancy and depth. (It's also remarkably forgiving – mistakes can be easily lifted off or reworked, and the surface can be resealed and reworked – so you can experiment endlessly with your art.) Either of these provide exciting opportunities to explore new techniques and mediums. Come by and see what inspiration you receive!
---
Sometimes, in the midst of exploring new ideas and techniques, we might stumble upon that little voice that whispers, "Are you sure you're doing this right?" In those moments, remember Les Paul's wisdom: there are not fixed rules. Your art is as unique as your fingerprint, and that's the beauty of it.
Experiment with gusto! Splash a bit of unexpected color here, scratch off a little layer there. Who knows? The next wonderful masterpiece could be just a stroke away. So pick up your tools and dive headlong into the wonderful chaos of creation.
After all, originality is the wildest and most beautiful form of artful rebellion. And the world needs you and your art!


Matthew & the Art Supply House crew