Art is not what you see, but what you make others see.

~ Edgar Degas
---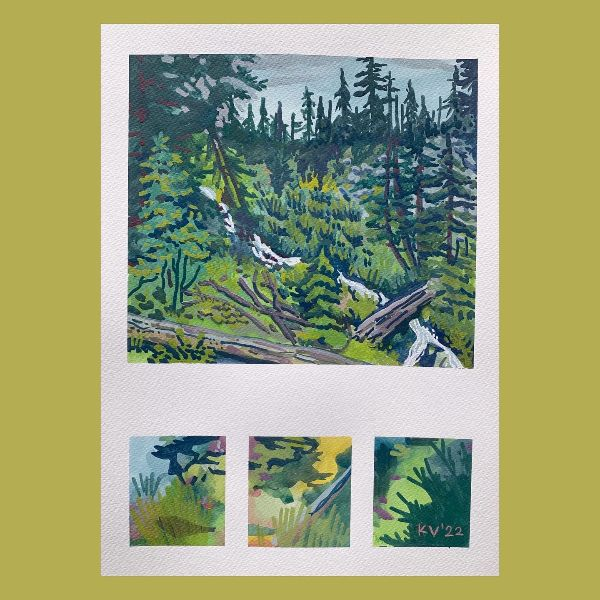 I remember reading James Gurney say, "I'm more interested in the commonplace subjects that we screen out of our visual awareness, such as parking lots, supermarket interiors, gas stations and back alleys. They're not mundane for me. They have a weird luminous power over my imagination. About twenty years ago I painted a commercial strip with a Blockbuster sign. Back then, when I showed that painting to art students, I would say, 'One day this world will pass away like the dinosaurs.' They just laughed because they didn't believe me. Sure enough, that has happened, and the wheel of time keeps turning." That comment and image has always stuck with me.
This week's artist is – Kristen Vardanega– whose work I ran across via an interview. In it, she was asked, "Why do you do what you do?" and she answered. "Simply put, I love making things and I love making people smile. I inject a lot of my perspective and humor into my work. When I started doing observational work like sketching things from my daily life, the world around me came alive. I started seeing colors and compositions that sparked my interest everywhere- that perspective and joy are invaluable to me." Which I thought was just lovely and had to share. Find more on her website and instagram!
Yayoi Kusama turns 94 today!
Here's a video showing how to make a hologram, by hand.
This video explains Georges Seurat's A Sunday on La Grande Jatte.
I stumbled across Notes Art recently. Great use for a ubiquitous tool.
Did you hear about the time the Mona Lisa took a shower?
There was a chance to see every single Vermeer. Here's someone who's done exactly that, though not all in one show.
Have you heard about the new First Friday program, launching in May? It's an art crawl with local goods, food, culture, and music.
Speaking of Friday's – the reception for Jenn Rawling solo exhibition, Tracks. Image & Sound is this Friday at Studio & from 5-9. Return on Saturday, March 4, 7-9pm, for a listening party to hear the new record from start to finish. Hear Jenn talk about her art here. Exhibit runs until March 4th.
This demo shows using acrylic to mix the 2023 Pantone color of the year – Viva Magenta.
Here's a watercolor for beginners guide.
If you're no longer a beginner, here are 5 watercolor techniques to learn from famous artists.
Here are the 2022 minimalist abstract photography awards.
You probably already knew that Maria's Bookshop hosts author events, book signings, and more. Shelley Read will be there Thursday at 6.
March 21st was Rosie the Riveter Day and the Animas Museum will be celebrating with a pop-up exhibit Saturday from 10-4. Come by the Animas Museum for the "grand opening." We'll be serving coffee and doughnuts in the morning.
The 2023 Durango Celtic Festival is Friday and Saturday. Here's their schedule to see if you're interested in tickets.
There are classes/workshops/projects available at the Dancing Spirit Community Arts Center, Let's Letter Together, the Scrapbook Nook, Create Art and Tea, the 4 Corners Gem and Mineral Club, Seed Studio, and the Durango Arts Center. There are a lot more things happening that I don't include – so if you're ever looking for something to do, start at WhatsHappeningDurango.com.
Black and black on black. Want something different? The dot-grid journals have an index and numbered pages. The blank paged Rhodia's are made with the care that you'd expect. If you want to play with some color and have it really stand out, these books will help with that! (And if you wanted to buy black paper, not in a pad, here are two options!) You really have to see them in person to understand why we were so excited when they arrived!
---
As artists, we have the opportunity, and power, to point out things that are otherwise overlooked. We're keen observers, with a trained eye. We see things in a different way than others. Like Gurney and his blockbuster sign, like Vardanega seeing the world differently when she started sketching it, and like these photographs of Cairo. We may all create differently, but we're still creative people (artists). Your perspective matters. The world needs your art!

Matthew & the Art Supply House crew

P.S. – Next month is our spring clean art supply drive. We'll be accepting art supply donations from April 1-29 (new or used) – so if you have art supplies and materials that you aren't using, drop them at the store and we'll distribute them to an organization or two who can really put them to great use!