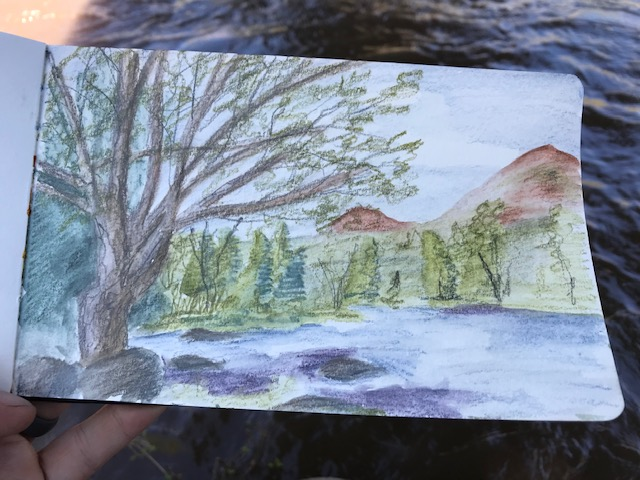 You can't use up creativity. The more you use, the more you have.

~ Maya Angelou
---
In last week's email I shared a bunch of artists and their projects, in addition to a few fun links. I made it through about half of (one of) my artist-to-share lists and thought that I would do the same thing this week.
Jean Hélion would have been 119 on Friday!
So far the Spring Clean Art Supply Drive has been going well. Our pile of donations is slowly becoming a small mountain. We have tentatively chosen a primary organization to donate to. We've worked with them in the past and recently discovered that last year they only had one donation… which was all of the supplies they had available. With your help, we can get them more to work with this year! So, if you have art supplies and materials that you aren't using (new or used), drop them at the store and they'll go to an organization or two who will use them to change lives!
Word Honey Open Mic Poetry is tonight from 6-7:30 at the Durango Public Library. Word Honey open mic poetry encourages all to take the mic and read an original work, or to come out and support local poets. Celebrate National Poetry Month!
Durango Montessori's 6th Annual Electronics Recycling Event is tomorrow at the La Plata County Fairgrounds. Bring your old electronics, batteries, computers, phones, etc. and they will recycle them for a suggested donation. Money raised at the event will go to our outdoor education fund and scholarship for students. Here's some more info.
Tomorrow is also the first Quarterly Ignacio Creative District Meet and Greet Social of the year! Featuring local creatives, collaborators, music and appetizers, making a uniquely artful event centered around connecting and socializing! Meet the ICD team, hear about what they have been up to including our exciting upcoming programs and events, and learn how you can join the ICD! Meeting at the Ignacio Community Library from 5-7!
Curious about living with beavers? Head to the Durango Public Library tomorrow from 5:30-7:30 (free, but registration required). Learn about these unique creatures and how to integrate them into your rural property. Nichole Fox, founder of Give a Dam, will cover how beavers can improve drought and wildfire resilience, agricultural yield, wildlife habitat, and more!
The Durango Bluegrass Meltdown is this weekend. It's a three day event scattered around town Friday-Sunday. You can find the schedule and buy tickets here. I was scanning the list of performers/bands and noticed the name of a fella that I grew up with. Even if you're not a Bluegrass fan, you'll appreciate seeing this video of a bird landing on Josh's guitar during a performance.
Saturday is Earth Day and Durango is celebrating. See what's happening here.
Youth artwork from the 9th Annual Unchain My Heart youth art exhibit is still available for purchase through the end of April! You can view and purchase youth artwork from their website. 100% of the proceeds for the artwork go directly to the youth artists.
The Connections Art Show is an exhibition featuring 3 artists (with 3 distinct styles) in Moody's on Mill Street in Bayfield, tomorrow (Thursday), from 4:30-7:30.
Here are artists and art projects:
There are classes/workshops/projects available at the Dancing Spirit Community Arts Center, Let's Letter Together, the Scrapbook Nook, Create Art and Tea, the 4 Corners Gem and Mineral Club, Seed Studio, and the Durango Arts Center. There are a lot more things happening that I don't include – so if you're ever looking for something to do, start at WhatsHappeningDurango.com.
---
We'll return to the normally scheduled programming in next week's email. Until then, I hope you're getting some inspiration from these creators! After all, we think that art makes the world a better place. That includes yours. The world needs your art!

Matthew & the Art Supply House crew

P.S. – If you've looked ahead at this month's calendar, you may have noticed that April has 5 Saturday's this year. That means that April 29th is going to be our next Customer Appreciation day! Do you have your bag ready?