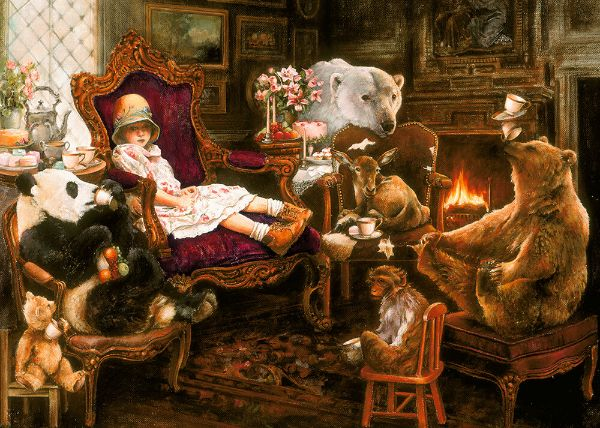 The world is but a canvas to our imagination.

~ Henry David Thoreau
---
Over the last couple of weekends I've helped neighbors with a few different projects. At least twice I was asked if I was an engineer after I made a suggestion. I had to chuckle. Nope, I'm an artist. Not all artists have a strongly developed spatial perception, but I'm one who does. I'm good at thinking in the third dimension. I'm good at problem solving and thinking through puzzles. So when I'm helping re-design something, or figuring out how to make on-hand materials work to solve a problem, I generally have suggestions. Those ideas often bring some form of the question – "are you an engineer?"
It seems like so many job titles have been expanded to include the word "engineer" these days. You're not a cook at a restaurant, you're a "food engineer." So maybe I need to create a new title. I could be a Visual Engineer, or Visual Mechanic (I suppose that depends on if I'm designing or building.)
This week's artist is – Lori Preusch– a local artist. This is another one of those times where I am shocked that I haven't shared her work yet! If you've paid any attention at all, you've seen Lori's work around town, though you might know the name Dandelion Press rather than Lori. Even if you are familiar with Lori's work, it's worth checking out her website and instagram for even more!
Yves Klein would have been 95 on Friday!
It's the last week for the Spring Clean Art Supply Drive! There's still room for your donations – but Saturday is the last day to drop them off! Bring any materials and art supplies you aren't using (new or used) by the store and we'll get them to an organization or two that will use them to change lives!
Also, Saturday is the 5th Saturday of the month – so it's customer appreciation day! Bring your bag for additional discounts and see what we happen to have on sale!
I remember watching Donald Duck in MathMagic Land as a kid.
Here's a short video on how to help bumblebees.
Just for fun, here's a short video of a chipmunk tasting almonds for the first time.
This comic talks about digitally replacing the sky.
Here's a look behind-the-scenes at creating a customized world map.
Thinking about navigation, here's how drivers navigated from point A to B in the early 1900s.
Creativity is a renewable resource.
Here's how one illustrator learns to draw anything.
Once you know how to draw – here's a guide to knowing what to draw.
A few artists' thoughts on style.
These details from the making of Lilo & Stitch make it even more fun!
Today is Open Mic led by ShadowTrapp at EsoTerra Ciderworks (9558 Main Ave) from 6:30-9. Bring your talent! Play alone, or with friends. This open mic is run up by the phenomenally talented musicians of ShadowTrapp! So, you are always guaranteed a great show! The floor is open to all varieties of music, and levels of expertise. Go show off, or simply enjoy the music.
Dr. Andrew Gulliford will be speaking at the Animas Museum on Saturday at 1 p.m. on his newest book "Bears Ears: Landscape of Refuge and Resistance." Copies will be available for purchase. There is no charge for this in-person only event. It will not be recorded.
There are classes/workshops/projects available at the Dancing Spirit Community Arts Center, Let's Letter Together, the Scrapbook Nook, Create Art and Tea, the 4 Corners Gem and Mineral Club, Seed Studio, and the Durango Arts Center. There are a lot more things happening that I don't include – so if you're ever looking for something to do, start at WhatsHappeningDurango.com.
Our most recent order of kiln-fired clay arrived last week – so we have our normal full selection available. At least for now. It seems to go pretty quickly. So if you're looking for a particular clay, or a certain cone… now's a great time to come by and see what's available!
---
Perception and preconceived ideas are a funny thing. I tell people that I'm an artist and they're surprised (especially after asking about the engineer thing.) They ask what I make and I say "mostly portraits and landscape paintings" and that's often not what they expect. Maybe I'll start testing out Visual Mechanic/Engineer as a title. I'm an innovator, a problem solver, and a master of my craft.

Creativity shows up in a lot of different ways – business ideas, garden design, floral arranging, painting, weaving, and so much more! No matter what art form you use to express your creativity, the world needs your art!

Matthew & the Art Supply House crew