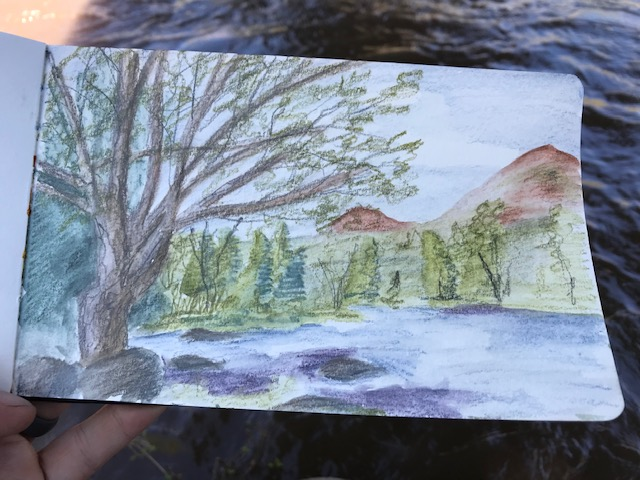 Great things are done by a series of small things brought together.

~ Vincent Van Gogh
---
In last week's email I mentioned "creative debt" and the collection of projects and materials that build up over time. In each week's email I share an artist or two's work… but each week I add somewhere between a couple and a dozen artists to my "to share" list. They're too good not to share, so today's the day! I've got a couple of fun links to share, and then a bunch of artists and their projects!
Elizabeth Catlett Mora would have been 108 on Saturday!
We're accepting art supply donations for our Spring Clean Art Supply Drive this month. So, if you have art supplies and materials that you aren't using (new or used), drop them at the store and we'll distribute them to an organization or two who can really put them to great use!
Andy Baio is colorblind – here's what the world (and some hard-to-use web interfaces) look like through his eyes. "At a glance…avocado toast and peanut butter toast look pretty much the same to me."
In perhaps the opposite vein – here's how birds see each other.
Youth artwork from the 9th Annual Unchain My Heart youth art exhibit is still available for purchase through the end of April! You can view and purchase youth artwork from their website. 100% of the proceeds for the artwork go directly to the youth artists.
The Connections Art Show is an exhibition featuring 3 artists (with 3 distinct styles) in Moody's on Mill Street in Bayfield, next Thursday (the 21st from 4:30-7:30).
Here are artists and art projects:
There are classes/workshops/projects available at the Dancing Spirit Community Arts Center, Let's Letter Together, the Scrapbook Nook, Create Art and Tea, the 4 Corners Gem and Mineral Club, Seed Studio, and the Durango Arts Center. There are a lot more things happening that I don't include – so if you're ever looking for something to do, start at WhatsHappeningDurango.com.
---
This email is a bit different than normal – I think I made it about halfway through my list of artists to share. (Well, one of the lists.) So, next week we'll probably do something similar. Hopefully you found someone inspiring, or a project that sparked an idea for you. We need to remember to fill our wells so that we have a source for our inspiration to pull from. With the current weather, maybe that's just you getting outside for a bit! Whatever it takes to get you creating, the world needs your art!

Matthew & the Art Supply House crew

P.S. – If you've looked ahead at this month's calendar, you may have noticed that April has 5 Saturday's this year. That means that April 29th is going to be our next Customer Appreciation day! Do you have your bag ready?