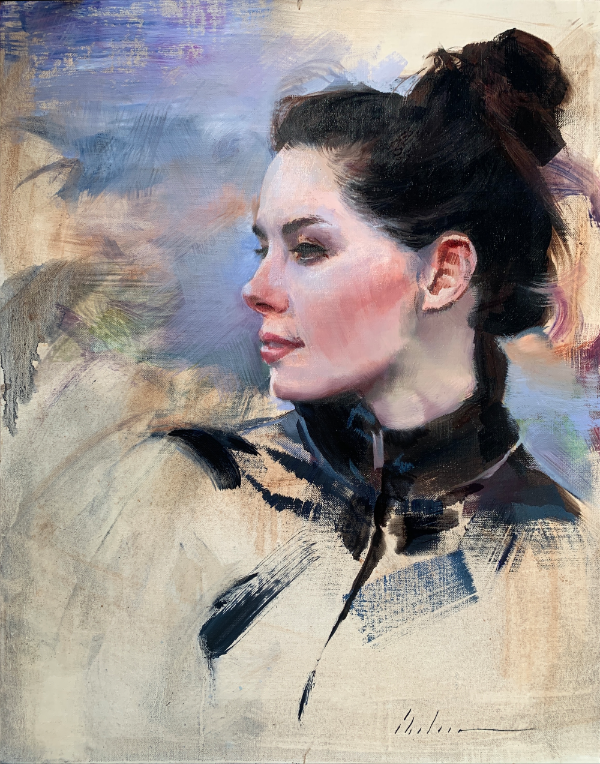 Sometimes magic is just someone spending more time on something than anyone else might reasonably expect.

~ Raymond Joseph Teller, one half of the magic duo Penn & Teller, on the process of mastery
---
I was recently watching a world class guitar player being interviewed. During the conversation they handed him an 80ish year old guitar and he strummed it a couple of times – then made a few comments about how it sounds and the potential it has to sound even better while looking at it in more detail. I heard a guitar strum. After 35 years of practice, he has such an in-depth, unconscious mastery about the guitar that allows him to do things that are basically magic to me.
Tamara de Lempicka would have been 125 on Tuesday!
Kristen is going through all of the donations from the Spring Clean Art Supply Drive (making sure everything still works). Hopefully, she'll be done with that soon and we can get it sent off to be put to use. We've spoken with the soon-to-be recipients and they're thrilled about the opportunity. They only had one donation of materials last year and have been stretching it out this whole time. Soon it'll be kids with new art supplies! (And we all know that's way better than a candy store!)
These 3D animations of yarn being woven are pretty satisfying to watch.
Another fun video – a crow using a tool.
Yes, I'll take infinite chocolate…
Artists should be able to make bad art.
The thing that sticks out of your art may be what it wants to be made from.
Maps twist our perception of the world – here are 20 examples.
Speaking of changing perception – this short video shows how color is perceived differently under the water.
In regard to different colors, here's how fluorescent colors work.
Someone shared this video with me and said it might be the best thing I'll see today. What do you think?
I mused about mastery above. Looking into this from a different perspective, here's a video explaining the 13 Levels of Complexity of Drumming. Here's the same musician playing Metallica's Enter Sandman after hearing it 1 time (it's fascinating to watch him encoding the music into his brain and body in the beginning.)
Here's another take – 13 Levels of Complexity of Turntable Scratching.
Where did Eeny, meeny, miny, and mo come from?
The Durango Botanic Gardens' Great Garden Series is currently covering Drip Irrigation for your Home Garden. Today, from 4:30-6 at the public library, for free.
This Saturday, the farmers markets are back in force – both the Durango and Bayfield markets will be up and running.
If that's not enough, the Durango Flea Market will be returning Sunday from 8-3 at the Fairgrounds and Event Center front parking lot.
Get Fused has changed ownership and will become Sun Sapphires, and will be offering quite a wider selection of services. To celebrate the change, they'll be hosting a grand opening party, complete with live radio event, raffle with prizes, free drinks, and more. Saturday, from 11-8.
There's a free Latin Fire Dance Workshop Saturday from 6-8 at EsoTerra Ciderworks.
The Bayfield library has an open art studio on Thursdays from 10-2. "Local artists of all ages and mediums are invited to come work on their own project in a group setting at the library."
On Sundays from 2-4 there's a crochet and knitting group. "All are welcome! Whether you have been knitting and/or crocheting for years or you would like to learn, we are happy to have you and will do our best to help you get started."
There are classes/workshops/projects available at the Dancing Spirit Community Arts Center, Let's Letter Together, the Scrapbook Nook, Create Art and Tea, the 4 Corners Gem and Mineral Club, Seed Studio, and the Durango Arts Center. There are a lot more things happening that I don't include – so if you're ever looking for something to do, start at WhatsHappeningDurango.com.
Oh My My! They are finally HERE! We are beyond excited to finally be carrying the ever so wonderful, smooth, and elegant Blackwing Pencils!!! A friend basically forced us to try some… which means we had to start offering them. Swing by to check out our latest selection!
---
I certainly wouldn't call myself an artistic master. I definitely don't practice enough (not enough brush miles). However, I can watch someone who is a master of their craft and understand what they're doing, and sometimes why. I'm much closer to understanding than I ever will be with a musician.

One isn't born a master. The musician mentioned above has comfort level with his instrument that comes from a lifetime of practice. I have something similar with my art supplies. I often hear comments about my portraits – they'd better be decent, I've been practicing for a few decades!

In developmental terms, a simple movement is one that can be done automatically, without conscious thought other than to give oneself the command to begin the motion. Once the order is given to start the movement, the muscles do the entire job themselves without having to be consciously guided. A movement combination is the conscious and deliberate joining of two or more simple movements, either at the same time or closely following one another. A human being can create just about any combination of simpler movements that are needed in order to get a particular job done.

Mastery is the process of stacking simple movements together into a chain. With enough repetition, the movement combination becomes a simple movement. That chain is developed and strengthened with practice. It can be frustrating to know what we want to do and be unable to do so. It can be even worse to watch someone else make it look so easy.

Fortunately, they're just further along the path. They're leading the way, showing us where we can go. Mastery is a journey (one that we never finish.) No matter where you are on the journey, the world needs your art!

Matthew & the Art Supply House crew