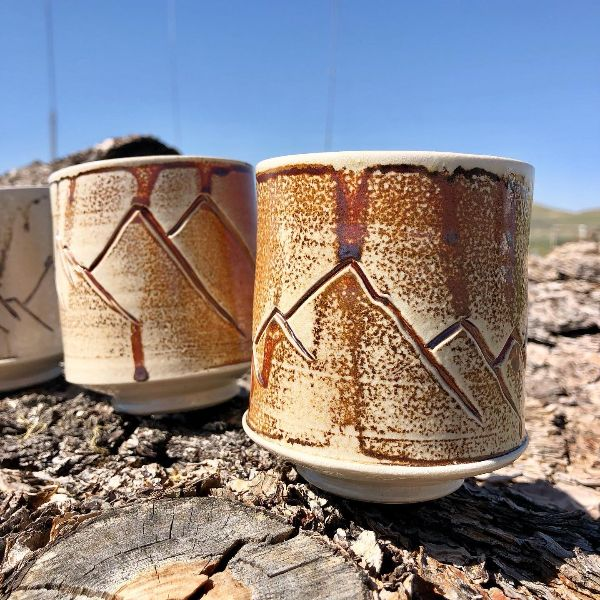 We are all apprentices in a craft where no one ever becomes a master.

~ Ernest Hemingway
---
I recently read an email that Steve Jobs sent to himself, remarking on how much we all need each other. Here is what he said:
I grow little of the food I eat, and of the little I do grow I did not breed or perfect the seeds.
I do not make any of my own clothing.
I speak a language I did not invent or refine.
I did not discover the mathematics I use.
I am protected by freedoms and laws I did not conceive of or legislate, and do not enforce or adjudicate.
I am moved by music I did not create myself.
When I needed medical attention, I was helpless to help myself survive.
I did not invent the transistor, the microprocessor, object oriented programming, or most of the technology I work with.
I love and admire my species, living and dead, and am totally dependent on them for my life and well being.
This week's artist is – Cynthia McDowell– who's a New Mexico studio potter. I love stumbling across new-to-me artists and the farmers' markets are a great opportunity for that. Last weekend kicked off the season in both Durango and Bayfield and I saw Cynthia's work at the Bayfield market and had to check out her website to learn more after seeing her work in person!
Jacopo Carucci would have been 529 today!
There might not be rules to creating art, but there are laws.
Here's a look at creating a master copy of a Degas.
A small gallery space at the London's National Gallery is featuring the opposite of idealized beauty. Perhaps it's the answer to the premise that there is far too much to be wondered at, praised, admired, coveted. Perhaps it is truly in the eye of the beholder.
In Stockholm, 94 of the 100 metro stations are decorated with art installations, making it the world's longest art gallery.
Art in a hurry! Don't have much time but want to create something? This list shares 5 tools commonly used by courtroom artists. We just brought in some clutch pencils, in case you want to try them!
Here's a great guide to using salt with watercolors.
If you're using watercolors, here's an introduction to watercolor papers and canvas (but we have more options than that in the store, if you're really curious.)
Nearly 70,000 music-obsessed researchers scour the internet daily to uncover nearly forgotten music of every genre and category; all tracks have fewer than 30,000 views on YouTube at the time of discovery and were released before 1996.
Head to the Durango library today from 4:30-6 for the Great Garden Series: Regenerative Landscaping. Learn the main principles of regenerative landscaping and how you can create a beautiful yet functional landscape that rebuilds the soil, improves plant health, reduces maintenance and water use all while helping to reverse climate change.
If that's not your thing, the library is also hosting a Speculative Fiction Discussion Group at the EsoTerra tasting room in Durango. Register through the library to reserve your spot (there are 12 spots available). Conversation is today from 5-6:30.
Tomorrow, head to 11th Street Station from 5-7 for Durango Green Drinks – a monthly conversation with two local sustainability organizations hosting each month. It's free and casual. Short announcements and presentations usually start around 5:30.
This weekend is Manna's first annual plant sale! Head to Manna's Garden on Friday from 3-6 and Saturday from 9-12. There will be Lots of veggie, flower and herb starts for sale – also, heirloom and hybrid plants. The starts were raised using organic and biodynamic methods.
It's going to be a busy weekend – it's the Iron Horse Bicycle Classic!
The fairgrounds will also be hosting the Durango Fiesta Days – starting with the Carnival.
I was recently chatting with a friend who mentioned they haven't been playing their guitar as much as they would like. I told them about the Slow Bluegrass Jam and they were excited about the opportunity. If you, too, would like to play more, then head to the General Palmer from 5:30-7:30 this Tuesday. If you're a beginner/intermediate acoustic music player who can play the I, IV and V chords in G, D and A then you know enough to play at this jam! This weekly jam is welcoming to all players, with a focus on slower tempo improvisation solos and chord changes.
There are classes/workshops/projects available at the Dancing Spirit Community Arts Center, Let's Letter Together, the Scrapbook Nook, Create Art and Tea, the 4 Corners Gem and Mineral Club, Seed Studio, and the Durango Arts Center. There are a lot more things happening that I don't include – so if you're ever looking for something to do, start at WhatsHappeningDurango.com.
We've recently been expanding our selection of kits and sets. One of the new goodies we brought in are these Williamsburg handmade oil paint sets. We've always loved the Williamsburg line of paints and were thrilled at the chance to offer at least a sampling of their range (we can order in far more, if you're looking for anything in particular.) Each of these sets are a different palette, so it's a great place to start if you're just looking to test them out. They've also intelligently designed each set to contain more white than any of the other colors! Even if you don't use the Williamsburg in particular, they offer a lot of guides and technical oil painting info on their website.
---
The email that Steve sent to himself is something that I think about when making art. I don't make my own materials or substrates and didn't formalize perspective. I haven't discovered a new way to present a subject in order to make it appear more accurate or understandable. Because of where I happened to be born, I have the freedom to pursue subjects that happen to interest me.

It's an amazing world we happen to live in. No matter what we're doing, we are living on the shoulders of giants. Just maybe, our example will be a step along the path for someone else in the future. We're all part of a chain linking the past and the future. As such, the world needs your art!

Matthew & the Art Supply House crew