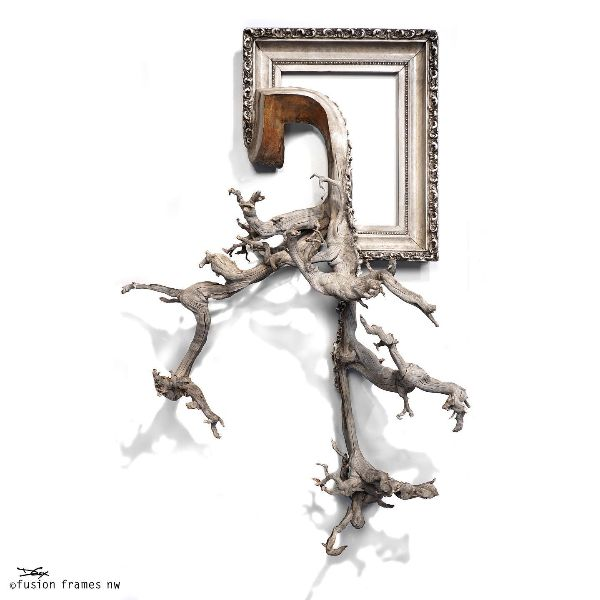 The meaning of life is to learn and have fun. We are the otters of the universe.

~ Richard Bach
---
While reading more about the quote above, I saw another of Bach's quotes – "The more I want to get something done, the less I call it work." What a great way to express his belief that the key to happiness and fulfillment in life is to find work that you love and that is meaningful to you. In this particular case, we can define work in a broader sense, so that it includes our creative pursuits. The first quote suggests that just as otters are playful and full of energy, so too can we embrace our inner joy and playfulness in our own lives. Who doesn't want to play with art supplies?
This week's artist is – Darryl Cox– whose work I had to share as soon as I found it. This is a great combination of what we do at the Art Supply House. (No, we won't offer something like this.) After admiring Darryl's work, I am really enjoying contemplating what art I would create to display in one of these frames. Check out his website and instagram for more!
Gabriele Münter would have been 146 on Sunday.
The Butterfly Artist Collective is sponsoring an art contest for artists between the ages of 15-30. The theme is Transformation. Entries must be received by March 21st (that's Tuesday!). All artists who participate will have the opportunity to show their work March 28th at Create Art and Tea. Cash prizes and other fun perks. More info here.
There are a couple of Calls for Artists in the area:

The Durango Herald is looking for a design that encompasses what local journalism means to our community. How it impacts and keeps people safe, informed, and engaged. They would like an artistic expression of the importance of having a local newspaper. Submission Deadline is February 28th. More info available here.
Willowtail Springs in Mancos CO is offering 1-2 week scholarship residencies in the arts and natural sciences during the months of March, April, May, and October 2023. Many more details and the application can be found at willowtail.org.
The Sweaty Buddha is inviting local artists to display their work "in the hopes they will gain exposure, sell their art and also help us to support our local community." Mediums considered: paintings, pastels, oils, mixed mediums, collage, graphic art, hand made rugs, poetry (if framed) and photographs. Artists should be from the 4 corners area. Art will hang for 2 month rotations and the Sweaty Buddha will take 10% commission on all sold work. Please provide write up or artist statement. Artists will be featured on TSB's social media as well in their monthly newsletter. Contact Paige Pasquini 413.358.8873 or paigepasquini@gmail.com for questions or more information

Apparently, otters are art history's unsung muses. I just had to share, since I stumbled across today's quote in the same day as this article.
I love this 30-minute noticing workout.
This is an interesting look back at the 40 year history of CD's.
Here is a chain of thoughts shared by James Gurney on painting, seeing, and how our brains work.
La Plata Youth Services 9th Annual Unchain My Heart art show will be tomorrow (Thursday) from 4-7:30 at Create Art and Tea.
If you're into such things, Saturday is Silverton's Skijoring annual event. Head up from 11-5 to see a single horse typically guided by an insane person occasionally called a cowboy, cowgirl or a rider, pulling a crazy person on skis who simply hangs onto a tow rope in a manner similar to water skiing but at 35-45+ mph. They'll head down Blair Street while attempting to get the fastest time with the skier trying to fly over jumps and catch rings on a baton while not crashing and burning!
There are classes/workshops/projects available at the Dancing Spirit Community Arts Center, Let's Letter Together, the Scrapbook Nook, Create Art and Tea, the 4 Corners Gem and Mineral Club, Seed Studio, and the Durango Arts Center. There are a lot more things happening that I don't include – so if you're ever looking for something to do, start at WhatsHappeningDurango.com.
As you're probably aware (not everyone is), we offer custom framing services. Though we don't offer the sculptural art frames that Darryl does, we do work with you from design to assembling the finished frame. If you aren't looking for a completely custom frame design, we also offer a variety of pre-made frames in standard sizes, in both barnwood and custom finished designs. The selection changes regularly as we have a chance to make more and re-stock. We keep glass on-hand (it's just stashed in the back to keep it clean and from cutting curious fingers.) If you're looking for an in-between framing option (or are in a rush) this is a great option. Swing by and see what's up on the wall!
---
The "humans are otters" quote touches on the idea that our true nature is one of joy, creativity, and boundless potential. That gives us the power to shape our own lives and make a positive impact on the world. If we approach life with a spirit of curiosity and joy, we are more likely to have fun and continue to learn and grow throughout our lives. So play and explore! Learn and have fun! Make a mess with your art supplies – whatever comes out as an end result, the world is a better place because of your art!

Matthew & the Art Supply House crew

P.S. – As a heads-up, we're going to be having a spring clean art supply drive in April. We'll take in donations of art supplies and materials that you aren't using and distribute them all to an organization or two who can really put them to great use. So while you're looking through your supplies, keep that in mind. Note the things that you aren't using and haven't in some time. We'll send out reminders when we start accepting donations.