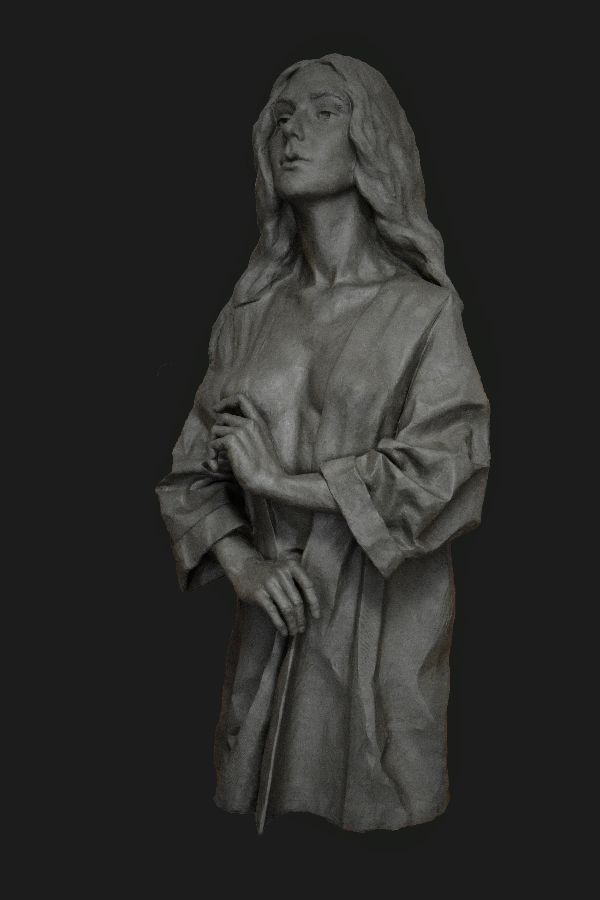 If all art is metaphor, then all art begins with memory. The ancient Greeks knew this: In their origin myths, they cite Mnemosyne, the goddess of memory, as the mother of the Nine Muses.

~ Twyla Tharp
---
A friend recently suggested that I read a chapter out of the book The Physical and Spirtiual Journey of a Southern Ute Elder by Russell Box Senior. One line in particular jumped out at me – "When [my grandmother] was doing a lot of her crafts, she was always talking about the past; how the items made were how old people kept a record of events, main events that were happening in their village." This very much echoes the lessons shared in the book Memory Craft by Lynne Kelley. Crafted items were important not only because they were tools for daily life, but also because they were incorporated into knowledge systems. Memories were embodied in stories, songs and rituals. The crafted items served as prompts to help remember the stories.
This week's artist is – Jana Büttner– whose work I saw in a magazine and was surprised to discover how young she is. Looking at her work, I interpreted it as coming from someone with more life experience. I can't wait to see how her work develops and what else she creates in the future! Check out her website and instagram for even more!
Jean-Baptiste Greuze would have been 298 on Monday!
For some reason, a chap calling himself Mr. Doodle has covered his entire house, like every single inch, with black and white illustrations. As a top commenter says on YouTube, "I would 100% go insane after my 2nd day living in that house but the props I give this man for his work are absolutely immense"
In a reading slump? Try a graphic novel. I love reading through random graphic novels that I pick up at the library.
Here are some librarians tips for adults who don't currently like to read, but want to.
Here's a video showing a world-class scrabble match. It's fun to see two heavyweights of the game go at it on equal terms.
Do you know the difference between a violin and a fiddle?
Traditionally, the subjects depicted in Western art were either religious or rich — wealthy patrons paid for paintings of themselves or of their religions. As Evan Puschak explains in this brief video essay, that began to change in the 16th century as revolution, reformation, and the development of a merchant class shifted who was worthy of depiction and who could pay.
From natural rubber to hundreds of bands in a box, here's how a Japanese manufacturing firm makes rubber bands. (video)
This video shows the process of mass producing pencils.
Some of the oldest surviving photographs – what the Mediterranean looked like in 1842.
Thoughts on dealing with creative grief after finishing up a project.
Working on new woodblock prints of Hokusai's previously unpublished Book of Everything
Design in theory vs real life. When it comes to design in the real world, there are a few basic rules that seem to always apply: If it looks neat, people will want to take a photo with it. If it looks comfortable, people will want to sit on it. If it looks fun, people will play around on it.
How many dinosaurs remain undiscovered? On average, one new dinosaur species is discovered every two weeks. "We're in the golden age of paleontology."
Friday from 7-9am is Float to Work Day! Make a splash during your morning commute by floating down the Animas River. The put-in will be at Memorial Park with coffee, water conservation booths, and fun. The take-out will be at Schneider Park. Durango Transit will be shuttling Float to Work Day participants from Schneider Park to Memorial Park from 7:30-9:30am
Hear live music on Friday night's at Fox Fire Farms! Music, food and wine. Free admission, seating on spacious lawn. Bring rain gear if there is a chance of rain. This week head out from 6-9 to hear La La Bones.
There's a lot of live music around town. Check out WhatsHappeningDurango.com to find who, when, and where.
Drop by Guild House Games on Monday from 6:30-9 for the free, weekly Chess Club.
If you're a beginner/intermediate acoustic music player looking to play more – head to the General Palmer on Tuesday from 5:30-7:30 for the Slow Bluegrass Jam. This weekly jam is welcoming to all players, with a focus on slower tempo improvisation solos and chord changes. If you can play the I, IV and V chords in G, D and A then you know enough to play at this jam!
There are classes/workshops/projects available at the Dancing Spirit Community Arts Center, Let's Letter Together, the Scrapbook Nook, Create Art and Tea, Durango Sustainable Goods the 4 Corners Gem and Mineral Club, Seed Studio, and the Durango Arts Center. There are a lot more things happening that I don't include – so if you're ever looking for something to do, start at WhatsHappeningDurango.com.
One of the goodies Kristen tried (and enjoyed more than she expected) were the PanPastels. Our first batch recently arrived – so if you've ever been curious or just want to try something new, these could be a great thing to check out. Whether you want to play with traditional colors, basic palettes, or use metallics for highlights – there's a color set you'll enjoy!
---
My limited experience seems to support the idea of crafted items prompting memories over time. A memento picked up on a trip to remind of the journey. Looking back at the crudest of sketches helps me remember the details of whatever I was sketching more vividly than a photograph could. As creatives, we are sometimes looking into the future, capturing the present, or preserving the past. We are helping to shape and make sense of the world. Whether you're looking forward or back in time, the world needs your art!

Matthew & the Art Supply House crew