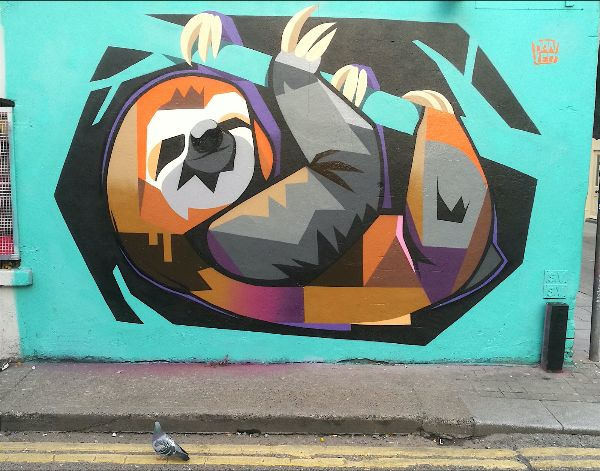 In order to write a book, do a deed, paint a picture with some life in it, one has to be alive oneself.

~ Vincent van Gogh
---
I've often heard of creativity described as a well. When a well is "primed" it's easy to get water from. Every day, a little bit of water is pulled from the well, which serves to continue pulling water from the source. However, if too much time is skipped, the water dries up. To get it flowing again, it takes a great deal of work to once again prime the pump (if it's possible at all.)
Lavinia Fontana would have been 471 tomorrow!
Interesting to read through this discussion about physical things that a bunch of programmers made.
Here is some advice from Van Gogh to a young artist.
One writers notes on notes.
It's fun to see discoveries being made through new technologies – like these previously invisible doodles and writings in old manuscripts and prints.
Old technologies are also fun to learn about – here's an article looking into letterlocking. How would you send a letter without an envelope – that you didn't want anyone but the recipient to read?
I enjoyed reading this article about how drawing changed this artist's life and led to a new business.
Random fun fact: The world's smallest mammal, the bumblebee bat, weighs about the same as a penny.
Somehow I've overlooked The Powerhouse's display, "Pterosaurs: Ancient Rulers of the Skies", on display May 27th-September 17th. If you are interested in dinosaurs, or know someone who is, head to The Powerhouse any day between 9:30-3:30 to learn more about a group of flying reptiles. Ideal for learners of all ages; families and individuals can learn about these ascinating and visually striking creatures in a variety of ways.
It's that time – harvest time! The Community Harvest Days are starting up. Fruit trees in our region are ripe and ready, but the Good Food Collective needs hands to help harvest. You can join in by visiting the website to find a list of available fruit trees for DIY harvest, rent gear, list your own tree, or by volunteering at one of the family-friendly Community Fruit Harvests. Mondays and Thursdays, 5:30-7:30pm all of August (and more through October). Pull on your picking pants learn how to join in the fun!
Head to the Durango Public Library for some excellent garden-inspired programming this evening from 4:30-6pm. This week it's an Artist's Tale from the Herbarium.
Also today is the Word Honey Poetry Workshop at The Hive. It's a poetry writing workshop – open to all ages and abilities. From 6-7:30.
Tomorrow (Thursday) is the next installment of the Concerts in the Plaza, featuring You Knew Me When. HEad to Three Springs Plaza from 6-8 for a free concert. Bring your lawn chair or blanket.
Hear live music on Friday night's at Fox Fire Farms! Music, food and wine. Free admission, seating on spacious lawn. Bring rain gear if there is a chance of rain. This week head out from 6-9 to hear Jack Ellis and Out on Work Release.
Also at Fox Fire Farms – Saturday is one of their Summer Art series events. Join them from 1-6 for an artful event featuring Featuring local artists, Rod Gantt with unique furniture, jewelry and sculptures from wood, resin and stone, and Cindy Shelton's @wildwood_cindy's "Fine, funky and fun works of art" to pair with your favorite wine.
The Animas Museum is hosting a free in-person talk by historian Fred Blackburn about his survey of historic inscriptions at the Aztec ruins. Fred and his team have been documenting the "historic inscriptions" and researching the stories of those who made them. Join in, Saturday, from 1-2.
There's a lot of live music around town. Check out WhatsHappeningDurango.com to find who, when, and where.
Drop by Guild House Games on Monday from 6:30-9 for the free, weekly Chess Club.
Tuesday, head to the Durango Public Library from 10-12, for a free Pollinator Workshop. Learn about local insects, flowers, plants, and even the birds, and the bees! Two presentations, "Pollinators that You Want in Your Garden!" then "And the Plants to Attract Them!" Optional tour of the Gardens at Durango Public Library afterward.
If you're a beginner/intermediate acoustic music player looking to play more – head to the General Palmer on Tuesday from 5:30-7:30 for the Slow Bluegrass Jam. This weekly jam is welcoming to all players, with a focus on slower tempo improvisation solos and chord changes. If you can play the I, IV and V chords in G, D and A then you know enough to play at this jam!
There are classes/workshops/projects available at the Dancing Spirit Community Arts Center, Let's Letter Together, the Scrapbook Nook, Create Art and Tea, Durango Sustainable Goods the 4 Corners Gem and Mineral Club, Seed Studio, and the Durango Arts Center. There are a lot more things happening that I don't include – so if you're ever looking for something to do, start at WhatsHappeningDurango.com.
We were thrilled to hear that Golden was expanding their SoFlat line (truly matte acrylic paints)! Our expansion kit recently arrived, and now the SoFlat display has 20 new colors tucked into it! If you prefer matte acrylics – these are a phenomenal option, in the quality that we always expect from Golden! If you might be looking for new colors to add to your palette, swing by to check out the expanded options!
---
Our "well of creativity" works similarly to a water well. If we use a little bit each day, it's readily available and easy to access. If we let it run dry, then it can feel impossible to access. We can re-prime our creative well, but it will take a lot of work to get it filled up enough to use. Similarly, if we pull too much from our well without allowing it to refill, we can also drain it down too far.

So, I have two reminders after all of that. First, don't forget to do something creative on a regular basis. Daily might be ideal, but we all know how hard the ideal can be to reach in daily life. Don't be too hard on yourself – aim for daily and graciously take whatever time you make for your creative pursuits.

Second, don't forget to refill your creative well. Be alive, to summarize van Gogh. Read, look at other art, listen to music, move your body, eat good food. Remember to take in more of what inspires you.

Balancing input and output is an ongoing project. Whatever it takes, the world needs your art!

Matthew & the Art Supply House crew