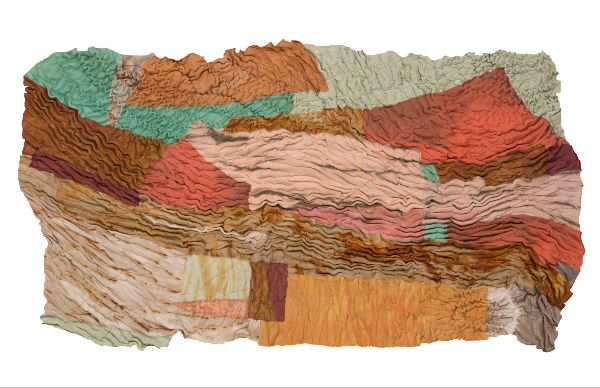 The older you get, the more you realize there are fewer absolutes in the world and more perspectives. Stereotypes do describe the more common occurrences, but not always.

~ Tim Allen
---
Everything is relative. Whether we think that Durango is a small town or a big city depends on our experiences. If we grew up a few miles outside a town of 5,000 people, Durango is big. If we lived somewhere like Denver, it's a small town. Neither is wrong – they're just looking at objective information from a different perspective (eg: Durango is 13.9 sq miles and has an estimated population of 20,163.)
This week's artist is – Leesa Zarinelli Gawlik– another local artist whose work I can't believe I haven't shared before! She stopped by the store recently and our chat jogged my memory. For even more, check out her website!
Charles Dana Gibson would have been 156 tomorrow!
All but one of the letters are silent in English. I appreciated the M joke.
This website is quite literal. RotatingSandwiches.com
Is Bach the greatest achiever of all time? (I really enjoyed the conversation in the comments.)
I often say that I "play with art supplies." Part of the reason I try so many different things is because I think that the cross-training is helpful.
This article about student vs artist grade paints seems timely to this week's email.
Here's some artists' unforgettable art advice they've received.
Miniature items in the Rare Book Division must be 3″ or less.
I recently ran across this article about the Ghost Army in WWII – which I'd never heard of.
Fun Fact: The unicorn is Scotland's national animal.
I love seeing the influence behind my favorite artists – following the breadcrumb trail to see how they became the artist they are.
Today is Community Shred Day at the Alpine Bank in Three Springs, from 9-1. Donations are accepted to benefit San Juan Mountains Association. The suggested donation is $10.00 per box (retail value is $13.20/box). Limit of 3 boxes (banker box size or smaller). Please remove binder clips & other metal clips. Staples or paper clips do not need to be removed. The shredder is not able to handle bricks, bowling trophies, antique door handles, pipes, etc, so please remove these items from your shred boxes.
Today is also the Durango Figure Drawing session from 6-8 in the Seed Studio at the Smiley Building.This figure drawing session is a chance to practice and refine your artistic skills with a group of like minded friends. Bring your preferred artistic medium. A nude model will complete a series of poses of varying lengths using a professional lighting setup. There is a $20 artist's fee ($15 for students). No experience needed!
Tomorrow (Thursday) from 4:30-6 is Nina Elder's opening at the Fort Lewis College Art Hall for her show "It Will Not Be The Same, But It Might Be Beautiful". Join for conversation about the presented artwork (and refreshments.)
In case this applies to you – the DHS Class of 1970 Reunion Meet and Greet is Friday from 4-8 at Gazpachos outside. Classmates from other years are welcome!
Hear live music on Friday night's at Fox Fire Farms! Music, food and wine. Free admission, seating on spacious lawn. Bring rain gear if there is a chance of rain. This week head out from 6-9 to hear Breezin 7-piece Band.
The Durango Arts Week kicks off Friday and runs through the 24th. There are 65 events scheduled, so I won't even try to list them here!
The Autumn Gallery Walk is Friday, from 5-8 – with 13 galleries participating.
The First Rodeo Art Show is also Friday, from 5-9. This is a group exhibit showcasing all local artists in a new creative space – featuring work from Jared Reed, Bill Threlkeld, Roger Seliner, Erin Clyne, Channel 37, Nathaniel D. Anderson, and more. Head to Outer Spaze (1129 Narrow Gauge Ave.)
This is the 29th Annual Autumn Arts Festival. Swing by 2nd Ave on Saturday or Sunday from 10-5 to experience it for yourself.
Community Harvest Days are still happening! The fruit trees in our region are ripe and ready, but we need hands to harvest! The Good Food Collective works to eliminate food waste, increase food security, and reduce bear-human conflict by helping to collect backyard produce. You can join in by visiting their website to find a list of available fruit trees for DIY harvest, rent gear, list your own tree, or by volunteering at one of their family-friendly Community Fruit Harvests.
There's a lot of live music around town. Check out WhatsHappeningDurango.com to find who, when, and where.
Drop by Guild House Games on Monday from 6:30-9 for the free, weekly Chess Club.
If you're a beginner/intermediate acoustic music player looking to play more – head to the General Palmer on Tuesday from 5:30-7:30 for the Slow Bluegrass Jam. This weekly jam is welcoming to all players, with a focus on slower tempo improvisation solos and chord changes. If you can play the I, IV and V chords in G, D and A then you know enough to play at this jam!
here are classes/workshops/projects available at the Dancing Spirit Center for the Arts, Let's Letter Together, the Scrapbook Nook, Create Art and Tea, Durango Sustainable Goods the 4 Corners Gem and Mineral Club, Seed Studio, and the Durango Arts Center. There are a lot more things happening that I don't include – so if you're ever looking for something to do, start at WhatsHappeningDurango.com.
We've really had fun with the Viviva paints and pads – and were thrilled when the new watercolor pans (on cork palettes) arrived in the last order. The metallic set is… as always… super exciting! (Not that we're completely biased about metallic watercolors or anything.) Swing by to check out something a bit different than normal!
---
While talking about art supplies, we always try to gauge what perspective someone is looking through. When they say "a large piece" to be framed, what are those dimensions? Similarly, what do they consider a "large canvas"? Are they thinking good art materials are anything better than Crayola – or are they anything above student grade? As with the example above about town size, there's no wrong answer.

However, there can be a wrong answer, based on the desired outcome. If you are making art in order to sell it – or if you're making art for fun as stress relief – those are very different goals being aimed for. For those two goals, you might need some of the same materials, but different quality levels. Or different quantities. Perhaps you don't need any of the same materials at all. It's all so relative! Those individual details matter.

(In next week's email, I'll talk about perspectives through the 4th dimension.)

No matter what the reason you're creating, the world needs your art!

Matthew & the Art Supply House crew

P.S. – September just happens to have 5 Saturdays – which means that the 30th is Customer Appreciation Day! Do you have your bag ready?