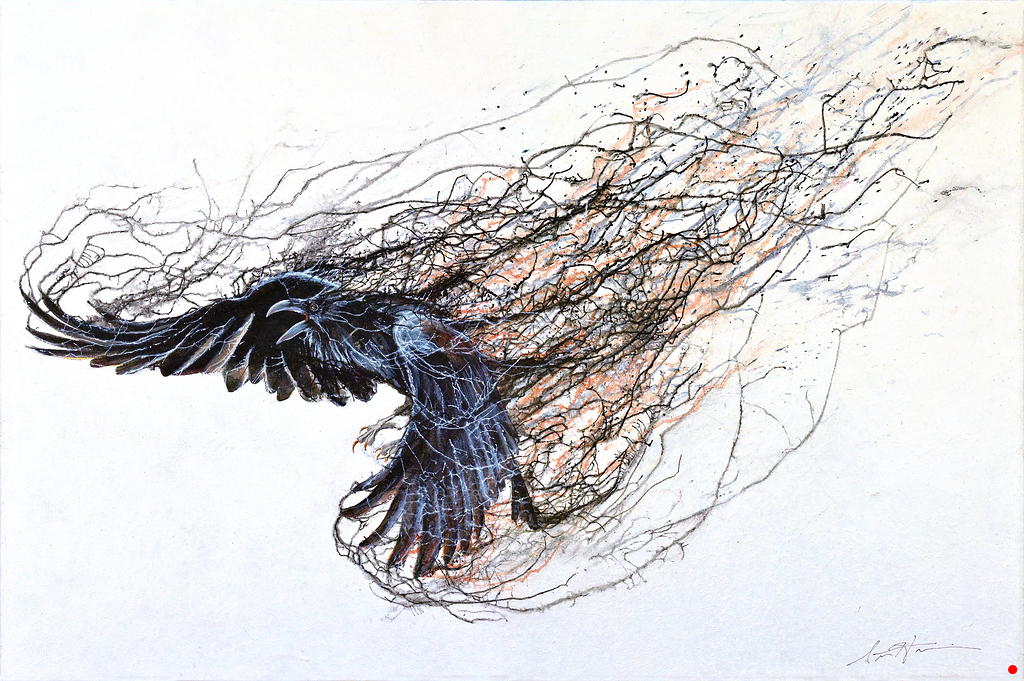 The man who views the world at 50 the same as he did at 20 has wasted 30 years of his life.
~ Muhammad Ali
---
In last week's email, I wrote about perspective mattering because we look at things through different viewpoints. One of those viewpoints is time (the 4th dimension). Sometimes time results in differences in abilities – growth from beginner to more. The change in viewpoint might have developed through wider experience levels – having tried new materials and techniques and discovering an ideal approach.
This week's artist is – Steve Hunsicker– whose work I saw (again) last week at the Autumn Arts Festival. I enjoyed seeing his work, but had even more fun talking materials and techniques with him. I learned some from him and shared some new things he wasn't aware of. For even more, check out his website and instagram!
Alma Thomas would have been 132 on Friday!
Here are winners of the 12th annual mobile photography awards. (I think the cave is my favorite.)
Academic drawing is alive and well in China.
Have you ever wondered why house paint brands choose a color of the year?
Liquitex has a medium finder tool.
Chronology Clock is a fun website that converts the time of day when you visit it (10:40am, for instance) into a year (1040 CE, for instance) and tells you something that happened that year in history.
Fun Fact: The total weight of all the ants on Earth is estimated to be roughly equal to the total weight of all the humans on Earth.
Just for giggles: Why did the cowboy buy a dachsund? He wanted to get a long little doggie.
Yesterday was International Talk Like a Pirate Day. Here's some Arrrt in honor of it.
What a great concept: a curated collection of the first lines of books, meant to help you choose something to read without having to worry over all the other details that might otherwise influence your decision. Love at First Line.
Just in case you like bicycles.
Here's a look at the notebooks of Jean-Michel Basquiat.
This evening, head to Lolas Place (934 Main Ave Unit A) from 5-7 to participate in a design charrette (a rapid, intensive and creative work session for a design team to achieve an optimal and informed design) for the future of the Main Avenue/East Second Avenue alley. This charrette is open to the public and artists and designers are encouraged to join and share their ideas. You can bring ideas and contribute to a public Design Charrette hosted by Durango Creative District and Lola's Place with City of Durango planners and neighborhood designers DHM Design. This community event will be focused on creating a vision for a walkable, art-centric activation of the alley between Main Avenue and East Second Avenue.
Tomorrow (Thursday) is time to head to the Durango Botanic Gardens for the "Garden of Art". from 4:30-6. It may come as a surprise to some that the Durango Botanic Gardens, located at the Durango Public Library, is host to one of the largest collections of outdoor art in Durango. Their collection of outdoor art encompasses a wide range of materials, including murals, ceramics, glass, metalwork and woodwork. They will present a video and slides of artwork in our gardens with many of the artists on hand to add more detail as to what inspired a particular piece, issues they may have encountered, etc. Following the in-library presentation, at approximately 5:15 pm, venture into the botanic gardens to inspect their outdoor art collection and visit with their creators.
On Friday, from 3-4:30, head up to room 170 in the southwest corner of the Fort Lewis College (FLC) Art Department Building for a weaving demo from Vinancio Aragon, a Dine textile artist. Here's more info.
Hear live music on Friday night's at Fox Fire Farms! Music, food and wine. Free admission, seating on spacious lawn. Bring rain gear if there is a chance of rain. This week head out from 6-9 to hear the Six Dollar String Band.
The Durango Arts Week is going on, until the 24th (that's Sunday). There are 65 events scheduled, so I won't even try to list them here!
One of the overlapping events is the Durango Studio Tour from Friday thru Sunday.
Saturday is the next installment of the Summer Art Series at Fox Fire Farms and Winery (from 1-6).
There's a lot of live music around town. Check out WhatsHappeningDurango.com to find who, when, and where.
Drop by Guild House Games on Monday from 6:30-9 for the free, weekly Chess Club.
The Durango Public Library's Book Club is offering the chance to explore a slice of local history through literature. Salone Italiano: The True Story of an Italian Immigrant Family's Struggles in Southwestern Colorado by Kay Niemann is the story of an immigrant family living in Silverton during its mining heyday at the beginning of the 20th century. Based almost entirely on letters written by the Sartore family to relatives back in Italy and illustrated with the family's historic photographs. This event is part of the History Live program. Free registration required.
If you're a beginner/intermediate acoustic music player looking to play more – head to the General Palmer on Tuesday from 5:30-7:30 for the Slow Bluegrass Jam. This weekly jam is welcoming to all players, with a focus on slower tempo improvisation solos and chord changes. If you can play the I, IV and V chords in G, D and A then you know enough to play at this jam!
There are classes/workshops/projects available at the Dancing Spirit Center for the Arts, Let's Letter Together, the Scrapbook Nook, Create Art and Tea, Durango Sustainable Goods the 4 Corners Gem and Mineral Club, Seed Studio, and the Durango Arts Center. There are a lot more things happening that I don't include – so if you're ever looking for something to do, start at WhatsHappeningDurango.com.
Kristen finally talked me into bringing in some of the Montana Golden line of transparent spray paints. As an example, the two left colors are white and black. If you've been waiting for these, we've got some on-hand! If you weren't but are curious – it's a great opportunity to try out something new! As always, the Montana cans all work with the different interchangeable caps.
---
If we look back at artists' work over time, we often discover that their focus has changed. This is often seen as a change in style. Sometimes this is due to a physical change (like Matisse) or a desire to change perspective (like Picasso). Other times, a focus changes based on ability to manipulate the materials being used (learning to better represent one's subject with practicing and training.)

As with Ali's quote above, hopefully time changes our perspective. For my addition to the concept, hopefully our perspective changes for the better in some way.

Remember that however you look at the world, whatever creative pursuits you engage in, the world needs your art!

Matthew & the Art Supply House crew

P.S. – September just happens to have 5 Saturdays – which means that the 30th is Customer Appreciation Day! Do you have your bag ready?