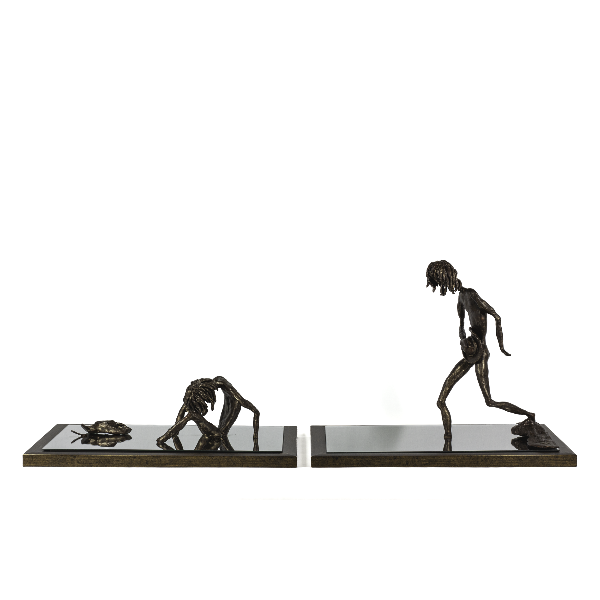 Great things are not done by impulse, but by a series of small things brought together.
~ Vincent van Gogh
---
Are you familiar with the physics of dominoes?
It's fascinating. And wonderfully applicable to the power of lining up a series of micro-goals to generate a ton of momentum in the process.
(Check out this awesome two and a half minute video by an equally awesome Physics professor!)
Here's the short story: A domino can knock over another domino that is about 1 1/2 times larger than it. So, imagine setting up a chain of dominoes such that each one is 1 1/2 times larger than the prior one. Let's say 13 dominoes. The first domino is only 5 millimeters high and one millimeter thick—so small that you need a pair of tweezers to put it in place. The last one is 3 feet tall and weighs 100 pounds.
Push the micro-domino over and BOOM!!! More and more power is amplified as each domino in the chain topples over. In fact, there's 2 BILLION times more energy in the last sequence than in the first.
This week's artist is – Suzie Grimm– another local artist whose work I can't believe I haven't shared yet! She doesn't sell her work, but as a way to give back to our community, gives her sculptures to people in appreciation for donations to charitable organizations. She currently has a two-part sculpture titled "Cowboy" displayed in Maria's Bookshop ongoing throughout the Cowboy Poetry Festival. The entire donation price of the piece will be donated to Manna. To see "Cowboy" in person, head to Maria's window. To see even more of her work, check out her website and instagram!
Alexandre Cabanel would have been 200 tomorrow!
A few thoughts on (modern) primary colors.
Here are 4 questions one artist asked themself before transitioning from medical doctor to full-time artist.
I joined some other artists in Create Art & Tea's quickdraw event last week. I took the opportunity to test out some oil paints and a new canvas – but otherwise was really debating between watercolor and gouache, which this artist prefers.
Here are some things hidden in plain sight.
This artist is really using their medium.
Fun Fact: Polar bears are nearly undetectable by infrared cameras due to their transparent fur.
Durango's launching a Poet Laureate Program! An Adult Poet Laureate and a Youth Poet Laureate position will each be filled through an applicant process. Through installations, speaking engagements, and community gatherings, the Durango Poet Laureate Program will inspire and enchant our community for generations to come. Learn more and apply here.
There's a lot of live music around town. Check out WhatsHappeningDurango.com to find who, when, and where.
Drop by Guild House Games on Monday from 6:30-9 for the free, weekly Chess Club.
Tonight is the Animas City Night Bazaar – OktoberFest – at the Union Social House, from 5-10. Art! Community-building! Performances! Live Music! Games! Contests! Fun for all ages!
Also tonight is a Durango Figure Drawing session (every 2nd and 4th Wednesday) from 6-8 at the Seed Studio in the Smiley Building. This figure drawing session is a chance to practice and refine your artistic skills with a group of like minded friends. Bring your preferred artistic medium. A nude model will complete a series of poses of varying lengths using a professional lighting setup. There is a $20 artist's fee ($15 for students). No experience needed! For questions, contact us! No need to RSVP!
The Durango Cowboy Gathering is this weekend, with events running from tomorrow (Thursday) until Sunday.
Hear live music on Friday night's at Fox Fire Farms! Music, food and wine. Free admission, seating on spacious lawn. Bring rain gear if there is a chance of rain. This week head out from 6-9 to hear Leah Orlikowski.
If you're a beginner/intermediate acoustic music player looking to play more – head to the General Palmer on Tuesday from 5:30-7:30 for the Slow Bluegrass Jam. This weekly jam is welcoming to all players, with a focus on slower tempo improvisation solos and chord changes. If you can play the I, IV and V chords in G, D and A then you know enough to play at this jam!
There are classes/workshops/projects available at the Dancing Spirit Center for the Arts, Let's Letter Together, the Scrapbook Nook, Create Art and Tea, Durango Sustainable Goods the 4 Corners Gem and Mineral Club, Seed Studio, and the Durango Arts Center. There are a lot more things happening that I don't include – so if you're ever looking for something to do, start at WhatsHappeningDurango.com.
The gelly plate printing has become rather popular, so we brought in a few plates for those who want to try it out. We started with two different sizes and have more coming from a different source. If you've been curious – now's a great time to check out something new!
---
The domino effect isn't just theoretical; it's a practical way to grow your creative power over time. I learned face proportions in middle school (practicing on Ninja Turtles and clowns!) I put in many "pencil miles" worth of practice shading bubble letters. Combining those two "tiny domino" skills I was able to draw faces with accurate proportions and gradated shading. Each small skill added up, over time, to become something greater than the whole.

We all want to push over the big domino – but it's a journey to get there. We want to get an idea of what the big goal might be, line up the micro-domino goals, and then start with the tiniest one. Knock it over. Repeat. Amplify our potential latent power. Eventually, we'll be knocking over the big domino – or an ever bigger one we can't see yet – because of those tiny domino steps taken along the way.

Whatever your creative pursuit might be – the world needs you to play with your dominoes. The world needs your art!

Matthew & the Art Supply House crew

P.S. – The 30th is September's 5th Saturday – which means it's Customer Appreciation Day! Don't forget to bring your bag!